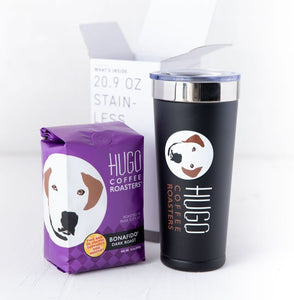 Great gift
Excellent customer service! And helps the pups too. What's not to live?
I love the purple bag the most.
I have tried every blend. The purple bag is my favorite.
Yum!😋
Excellent coffee and adorable traveler!
Simply The Best
This is fantastic coffee. We went to the coffee shop in Utah and really enjoyed it with great family atmosphere. I had ordered some for my daughter and I to be shipped to our residence since we live out of state and it was a remarkable gift to ourselves. Claudia is fantastic and so caring of her customers. Best of all their proceeds go towards animals. Great company, great coffee, and we can't thank you enough for what you do for animals. You are the best. I will be placing another order soon and when we go back to Utah we will be stopping in the cafe.
Coffee & Ski Lover's Gift Pack is amazing!
This was a gift for my daughter. It came in the cutest box and bow. My daughter loved the travel mug and uses it at work everyday. It keeps her coffee hot in this brutal Chicago winter. She works outside, but now enjoys her Hugo coffee in her favorite mug.